Old, obsolete silver (or black!) amalgam fillings. No one would argue that they look ugly; unfortunately they also damage teeth and mouths!
A cavity prepared for a silver filling is always larger than necessary!
A silver filling leaks from the day it is placed!
Silver fillings swell as they age and break teeth!
Silver fillings add no strength to a tooth.
Silver amalgam consists of 50% mercury mixed with copper, silver and zinc. Mercury is one of the most toxic naturally occurring materials. Using, storing and disposing of amalgam requires a special licence and failing to follow disposal rules carries heavy penalties under environmental protection laws. But in your mouth?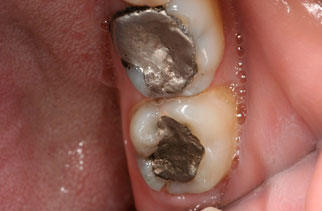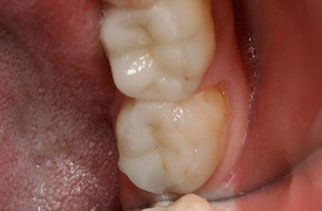 Fortunately there are alternatives that are stronger, more durable, add strength and are beautifully blended to match the tooth so no one will know that you have any fillings!
Indeed amalgam "fills" holes, modern options "restore" teeth!
For small-medium restorations tooth coloured resin can be invisibly bonded into place – beautiful, strong and durable.
Larger restorations may require a piece of porcelain to be custom made and bonded into place – the ultimate in strength, beauty and longevity.
If you are concerned about possible toxicity from old amalgam you can be reassured that the team at London Holistic Dental Centre are vastly experienced in safe removal of old materials using a system developed and evolved over twenty years.
Have the health and beauty you deserve from a team you can trust.
Unsightly, broken down amalgam transformed with beautiful, strong and durable porcelain onlays