A dental crown or cap replaces all the visible part of the tooth and should match the adjacent teeth perfectly. Until recently crowns were commonly made with a core of metal for strength, with porcelain pressed over the top for appearance – these metal / ceramic crowns do not transmit light in a natural way and so often have a flat and dead appearance which does not blend well with natural teeth. Also the metal can irritate the gum around the tooth causing recession and exposing a black line at the tooth neck. Sound familiar?
Using advanced techniques and materials it is now possible to eliminate the metal without any sacrifice in strength; black lines, opaque teeth, obvious mismatched crowns are a thing of the past.
Old, worn out crowns replaced with porcelain to blend with natural teeth.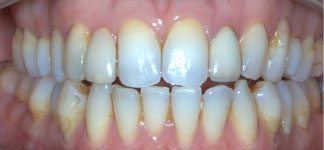 Smile Rejuvenation - Before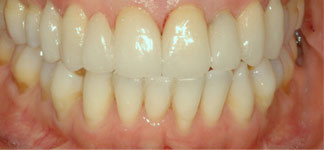 Smile Rejuvenation - After
Using the skill and judgement acquired over many years and the advanced artistic vision of our specialist ceramic technicians your new crowns simply "disappear" into your mouth, looking, feeling and functioning just like the real thing in any part of your mouth. In moments you will have forgotten which tooth is the crown!
Isn't it time to upgrade your old obsolete crowns? Invest in your future with beautiful, strong and durable, 21st. century ceramic crowns.
You can have the smile you have always wanted.
Failing fillings and worn unsightly smile revived with crowns.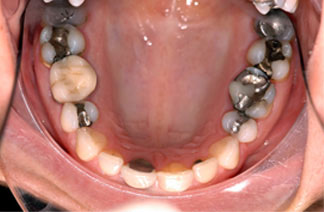 Smile Rejuvenation - Before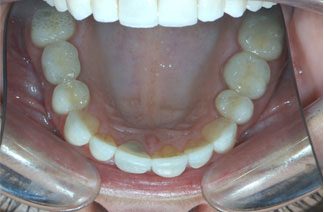 Smile Rejuvenation - After